With respect to the environment and considering the needs of our guests, in 2009, we created two adjoined traditional stone-built maisonettes, in the middle of a typical olive grove, from where they took their name "Eleonas". Our properties are 4 minutes walk from the nearest beach.
Set 650 meters from Kalamitsi Beach, Eleonas Houses offer an outdoor swimming pool, a garden and air-conditioned accommodation with a balcony and free WiFi. There is also a charming sun terrace for the use of guests, from where you can enjoy the beautiful view.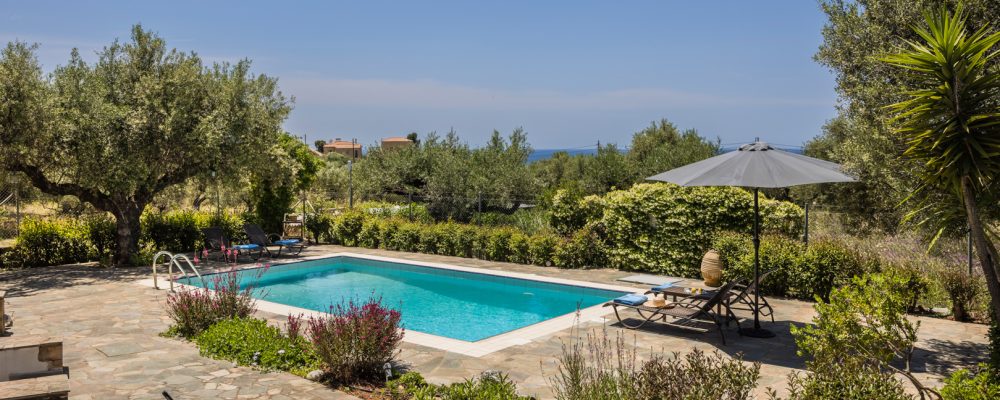 * Price includes an independent studio on the lower ground floor of the villa, with two single queen size beds and a bathroom. Excluding the studio, the price of Villa Amelia starts from €150 per night (up to 4 adults).
Outsatanding Me and my family have stayed there twice and found the experience wonderful. Amazing location and much appreciated hospitality. Everything was very clean and was a very nice place to stay in. It was very close to the town centre as well as restaurants and the sea. We are hoping to visit again at some point and are looking forward to it
Perfect place to rest and spend time We were 2 couples renting both houses for 3 weeks at Sept-Oct 2017. The location is perfect, privacy is assured. The beautiful view of the olive orchids and the surrendering mountains + amazing sunsets is all you need. The beaches were about 10-15 min walking and the village has everything you need. Supermarkets, tourist shops, tavern's and the best bar - 1866! Look it up, you will not regret meeting the perfect bartender :)The houses are beautiful and comfortable with all the facilities, fully equipped, constantly cleaned and maintained. We felt just like home, very welcomed. Any question we had, any help we needed Eleoni and Marcus were there for us. The pool is amazing, deep enough to swim and the water not too cold. We enjoyed long breakfasts by it followed by walks in the surrounding area.
A lovely time at Eleonas We stayed a long time in Kardamili, a couple at each vila, for more than three weeks. The spacious place, the quiet, along with the vicinity to the village, its restaurants and bars and beaches, made the long time there perfect, which could have easily last longer. If you plan to stay in Kardamili, do go there.
Excursion638266
2017-08-31
Eleonas Houses Kardamili We spent a lovely week at Eleonas Houses with some friends. Adjoined villas are set in an olive grove in Kardamili, beautiful setting, short walk to beach and restaurants. Eleni and Marcos were attentive and helpful both before and after arrival, also organised rental cars for us waiting at the airport. Would highly recommend to anyone.
Wonderfull short holiday Spacious, well styled, comfortable beds and all the facilities you might need. If reasonable extras are needed the hospitables hosts will provide it. The clean and refreshing swimming pool was a very needed facility.I should have started with the friedliest hosts - Eleni and Marcos.
Great place to stay This little villa is a great place to stay.5 minutes walk from the town, it has lovely views and a tiny but refreshing pool.Hosts are always around although there's also lots of privacy.Rooms are very comfortable with Air Con, WiFi, washing machine, two TVs.Surrounded by olive groves and great views up to the mountains.Taverna nearest the villa was probably the best - if slightly expensive.Delfinia beach was great for swimming but Kalgoria, just before Stoupa is a large sandy and relaxing beach, even if the water is cold.
Peaceful and welcoming These 2 beautiful houses are in a very peaceful setting 10 or so minutes uphill from the centre of the delightful village of Kardimilli. Elena and Marcus are so welcoming and friendly without being in any way intrusive, and we had a very nice welcome package including fresh fruit, wine and their own organic olive oil. The houses are spotlessly clean and have a dishwasher and washing machine which were a very welcome extra touch left with both washing liquid and dish washer tablets. The maid came in 2-3 times a week to change the linen and clean. There were good pool/beach towels provided.We drove from Kalamata and it was good to have a car to explore the mountains, and get to some sandy beaches although if you want a very quiet relaxing holiday the village provides everything you could need, including some stony, but very lovely beaches.Our only problem while we were there was that we had misunderstood the size of the accommodation and thought there were 2 bedrooms with ensuite shower rooms. We were 2 couples and one of the couples had to sleep on a sofa bed in the lounge area. It was really too small for us and VERY open, with very little storage downstairs, so not really ideal. Luckily we are very old and good friends so we managed, with some good humour. There is another good size ensuite bedroom in the basement which we should have booked in addition, at additional cost, which we had missed. Just be sure what exactly you will be getting before you book.Having said this I think the houses are perfect individually for couples and together for bigger families or groups. The gardens and view to the sea are beautiful, and the swimming pool very welcome especially on a hot evening.
Resort atmosphere but no crowds Eleonas House is a short walk outside the main town of Kardamyli. It is thus isolated and creates a very individual resort type atmosphere with a private pool, landscaping, separate apartment with full kitchen and two baths. Owners live on the property and make sure everything is well taken care of. The short walk is not a problem to reach the restaurants in town nor is it far form the sites in the city and the hiking areas. Great place to spend a few days away from it all.
Wonderful Retreat with Perfect Hosts! Eleni and Marco were very friendly, accommodating, helpful, and generous in every way. The property is just lovely with the olive groves all around, views of the sea, and swimming pool. It is new, well appointed, and just like home. They provide olive oil, olives, and oregano from their own property. Just the best! It is a short walk into the village. You will be happy here.